Every night, not far from you, hundreds of children, families, veterans and others in your community are experiencing homelessness and many are your neighbors. If you don't see them, you are not looking. For the majority experiencing homelessness,
it is by circumstance and not by choice.
The loss of a job, the death of a spouse or a child or a severe physical disability became the route to total despair. These are the very real tragedies that have happened to many people experiencing homelessness. Struck by personal tragedies, they have lost their homes and support systems and are not looking to remain homeless. You can repair this tear in Monroe County's social fabric by helping them move from benches to beds and to self sufficiency.
1 in 420 people in the US are Homeless
1 in 7 homes are empty
There are 24 empty homes for each homeless American
44% of homeless are employed
60% of homeless are disabled
30% of homeless are Veterans
Mission Statement
Homeless but Not Helpless
Recognizing that healthy communities depend on respect, dignity, and opportunity for all, we believe that bringing an end to the tragedy of no room in shelters, hungry children, and abused women cannot happen unless we listen to the voices of those who are directly impacted by those problems. The homeless must be participants in the process of creating and implementing solutions.
God's People Helping People is committed to end hunger, homelessness, and poverty in the lives of our neighbors through the love of Jesus Christ in our community.
Pastor Jeremiah Steepek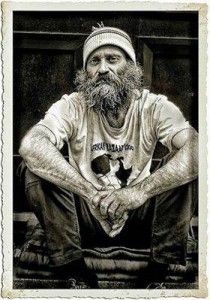 Pastor Jeremiah Steepek transformed himself into a homeless person and went to the 10,000 member church that he was to be introduced as the head pastor at that morning.
He walked around his soon to be church for 30 minutes while it was filling with people for service….only 3 people out of the 7-10,000 people said hello to him.
He asked people for change to buy food….NO ONE in the church gave him change.
He went into the sanctuary to sit down in the front of the church and was asked by the ushers if he would please sit in the back.
He greeted people to be greeted back with stares and dirty looks, with people looking down on him and judging him.
As he sat in the back of the church, he listened to the church announcements and such.
When all that was done, the elders went up and were excited to introduce the new pastor of the church to the congregation "We would like to introduce to you Pastor Jeremiah Steepek."
The congregation looked around clapping with joy and anticipation…..
The homeless man sitting in the back stood up and started walking down the aisle. The clapping stopped with ALL eyes on him.
Pastor Steepek walked up the altar and took the microphone from the elders - who were in on this- and paused for a moment, then he recited "Then the King will say to those on his right, 'Come, you who are blessed by my Father; take your inheritance, the kingdom prepared for you since the creation of the world. For I was hungry and you gave me something to eat, I was thirsty and you gave me something to drink, I was a stranger and you invited me in, I needed clothes and you clothed me, I was sick and you looked after me, I was in prison and you came to visit me.' "Then the righteous will answer him, 'Lord, when did we see you hungry and feed you, or thirsty and give you something to drink? When did we see you a stranger and invite you in, or needing clothes and clothe you? When did we see you sick or in prison and go to visit with you?' "The King will reply, 'Truly I tell you, whatever you did for one of the least of these brothers and sisters of mine, you did for me.'
After he recited this, he looked towards the congregation and told them all what he had experienced that morning.
Many began to cry and many heads were bowed in shame.
Then he said "Today I see a gathering of people. Not a church of Jesus Christ. The world has enough people, but not enough disciples. When will YOU decide to become disciples?"
He then dismissed service until next week.
Being a Christian is more than something you claim.
It is something you live by and share with others - borrowed to share.